What is the difference between Mykonos, Santorini, or for the Australian market - Kythira!

We Australians love Greece, whether it is from our family history, a love of fabulous Villas with 'to die for' views, past memories of Greek boyfriends (or girlfriends) or the love of Greek food! What ever our reason - we do love Greece!

Below is a run down of the 3 most popular Islands preferred by the Australian market.
Mykonos


Mykonos is one of the most popular Greek islands all over the world. Tanning on the sandy, golden beaches, blue and greenish transparent waters, beach bars lying in the coastline and specially made drinks, make the scenery of the perfect holiday destination. And if we add a Luxury Villa to this description, we have the absolute place to spend some days resting and having fun!

However, don't just have the impression that Mykonos is only a place "dedicated" to party lovers! Mykonos provides all sorts of entertainment choices to its travellers. Party lovers, romantic souls and explorers can fulfill their needs while staying in Mykonos.

All over the island, there are amazing places to have a romantic dinner while enjoying the sea view. Also, you can have a relaxing time by the beach reading your beloved book or magazine and finally enjoy a peaceful walk in the pebble streets of Mykonos town.
Santorini
Visually spectacular. Thira is touristy, Oia is a little quieter but the island is the most popular in Greece and for good reason. The daytime action is at the beaches, Perissa and Kamari. Good Raki and domatokeftedes (fried tomato-balls) are culinary favorites.
Ruins of Ancient Thira are worth the trip if you are unimpressed by the most spectacular sunsets on this planet. Most people want to stay in the beautiful hotels overlooking the caldera but if you have children you will sleep a lot easier a few meters inland rather then on the edge of a 1000 foot cliff, and save money as well.
Great nightlife, excellent beaches, spectacular scenary and romance make this one of the world's top destinations for honeymooners and weddings too.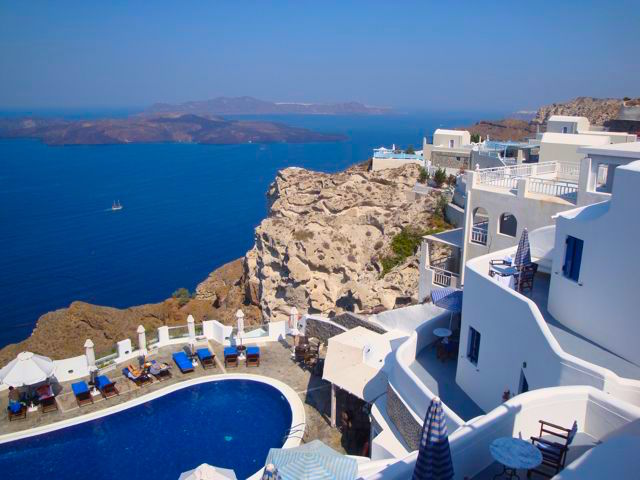 KYTHIRA


In the early 20th century many islanders emigrated to Australia (or "Big Kythira" as it is known). Many of their descendants return each summer, the island receives few tourists. It is a secluded Island with a relaxing atmosphere with wonderful beaches, lovely
monasteries and even ghost villages, like the abandoned town of Paleochora.

It's an island that offers much –astonishing deserted beaches, old legends, lovely little towns and the traditional way of island life.